First, sign up:
Our charity only uses this database in-house for in-kind matching. It's not sold or shared. Our name is Matter of Trust for good reason.
Click on the activation link in your email and LOG IN.

Now, post a GIFT or WISH, or BROWSE available gifts:
Click on the DEPARTMENT that best fits your GIFT or WISH.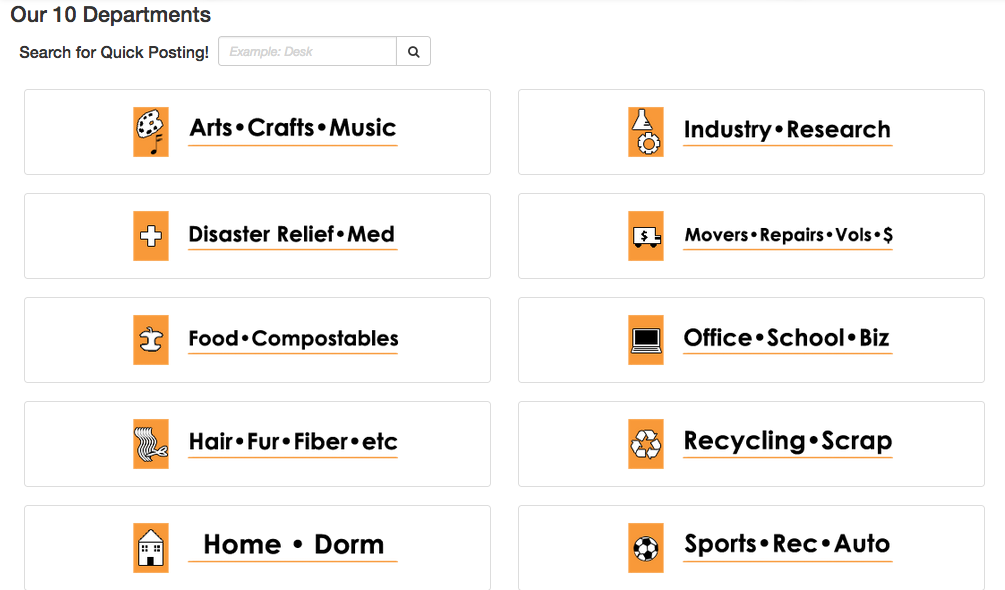 Click on top menu MY GIFTS or MY WISHES in each department.


You can ADD / VIEW / EDIT / POST PHOTO / DELETE / DUPLICATE as many GIFTS and/or WISHES as you want. The more detail, the better the matching. Use DUPLICATE and EDIT for faster posting of many items.
When posting your GIFT or WISH, you can check any Important Info boxes that apply (pick up only, drop off only, need insured movers, will deliver for a small fee, etc).
You can also post GIFTS and WISHES for services (either for free or for a small fee) using the MOVERS, REPAIR, VOLUNTEERS & FUNDING DEPARTMENT.
BROWSE existing GIFTS and WISHES from the top menu bar in every department. When you see the perfect GIFT or WISH, simply click on REQUEST but PLEASE BE SURE TO NOTE THE LOCATION.

Next, you get matched:
We automatically and continually link GIFTS to WISHES as they come in, using location and sub-categories for best matching.
Once that happens, we email you a POTENTIAL MATCH alert. You can click on the link in that email to go to your POTENTIAL MATCH.

If you are already logged in, you'll go straight to your list of matches in that department. Click on the match and follow the prompts for next steps.

If you're not logged in, do so. You'll be taken to the DASHBOARD in that department. Click on "All Potential Matches" under GIFTS.

Action items on your DASHBOARD can always show you your potential matches. Go to Departments on the menu bar and click on "Main EA." Look for FLAGS in department buttons, which represent new action items, and click on those. Now you'll see your list of potential matches for that department.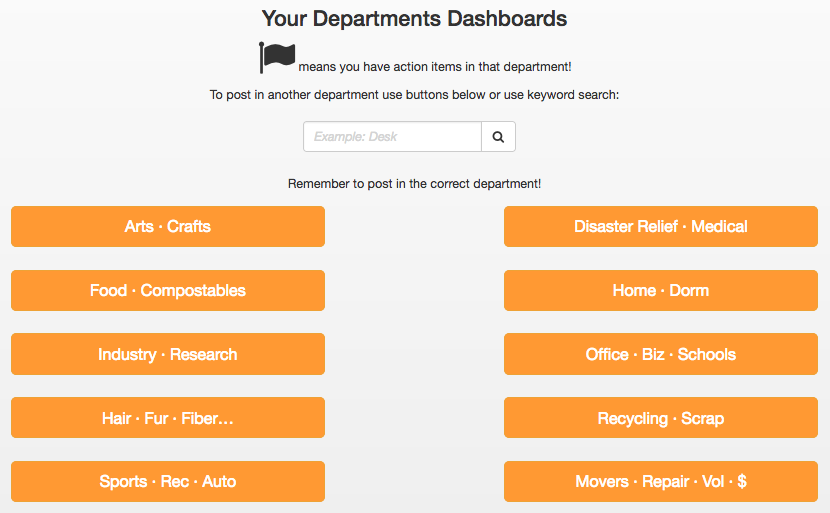 Click on the item to see all relevant info.

For RECIPIENTS/WISHERS - you can 'Request This Gift Now' or 'Save This Gift For Later'.

Once a match is REQUESTED, we send out automatic email alerts that explain if you're first or on a waiting list. PLEASE NOTE ALL MATCHES ARE ON A FIRST COME FIRST SERVED BASIS.

For DONORS/GIFTERS - you can now choose to either COMPLETE MATCHING or CANCEL MATCHING.

FOR YOUR SAFETY: At this point, you will both receive messages through our SECURE ONLINE MESSAGING SYSTEM. You'll receive an email with the link to your MESSAGING INBOX. You can also get there from your DASHBOARD.

Then, arrange delivery or pick up:
It is up to DONORS/GIFTERS to contact RECIPIENTS/WISHERS first to arrange a convenient pick up or drop off. Learn how to have safe, easy transfers.
DONORS and RECIPIENTS can, GUILT FREE, at any time a match is stuck, CANCEL FOR REMATCH FROM WAITING LIST or CANCEL AND DELETE - if your gift is no longer available, or if your WISH is no longer necessary. (See notes below regarding wait listing and the IRS.) The goal is FLOW. There will always be more GIFTS and WISHES!

Finally, confirm completion of the process:
To confirm a successful match completion, DONORS and RECIPIENTS should both click VERIFIED on your automatically generated TAX RECEIPTS on the DASHBOARD menu.
You can COMPLETE / VERIFY / PRINT / EDIT / CANCEL MATCH and VOID your RECEIPTS at any time.

PLEASE NOTE: If a DONOR cancels an initial auto-match AND passes over nonprofits (marked with "N" in front of item) on the waiting list in order to pick a business ("B") or individual ("I") RECIPIENT, the match cannot be VERIFIED and the tax receipt will reflect that this gift could be considered as "earmarked" by the IRS, meaning a tax deduction may not apply.
ALSO: DONORS are solely responsible for any amounts they input on tax returns. Consult your accountant or tax preparer for guidance.
FINALLY: Lawyers think of everything. The Terms and Conditions box you checked during SIGN UP states that any and all interactions of participants (individuals and organizations) on Excess Access are solely between participants. Excess Access and Matter of Trust shall not be held responsible nor liable for any loss or damage of any sort incurred as the result of any such dealings.
MOST IMPORTANTLY, reuse and recycling is a wonderful thing, and healthy for the environment. We thank you for your donations and thoughtfulness!
Click Here To Sign Up and please send us your FEEDBACK. Thanks!
Check out how you can help support Excess Access and other MatterOfTrust.org programs, shop at our online eco-gift store, and become a sponsor to promote your green business via footers on our potential match emails.